Julie Samuelson, Real Estate Sales Associate; Auction Manager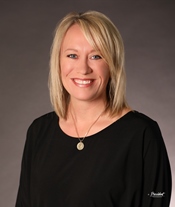 This email address is being protected from spambots. You need JavaScript enabled to view it.
Julie Samuelson is a vital member of the Ruhter Auction & Realty team, gracefully steering our auctions' financial aspects with her exceptional expertise and composure. Julie joined our ranks as a licensed Real Estate Salesperson in 2015, and the following year, she embraced her role as our Auction Manager.
Her primary responsibilities include managing all funds at our Personal Property Auctions, whether they're live or online. She works closely with both buyers and sellers, ensuring a seamless flow of transactions. Her calm demeanor is a lighthouse amidst the hustle of auctions, ensuring a smooth operation at all times.
Julie and our co-owner, Ryan Samuelson, have been married since 1996 and together they've built a beautiful family. They have three children: Morgan, Breck, and Irelyn, and they call Hastings their home. Julie's strong family values, deep faith, and unyielding dedication to our team significantly contribute to her role and make her an indispensable asset to Ruhter Auction & Realty.
Her relentless pursuit of excellence and her wholehearted commitment to our clientele align seamlessly with our company's core values. Julie's love for her family, her faith, and her genuine care for our team exemplifies her integral role in our organization's ongoing success. We are grateful for the unique skills, expertise, and warmth that she brings to Ruhter Auction & Realty.