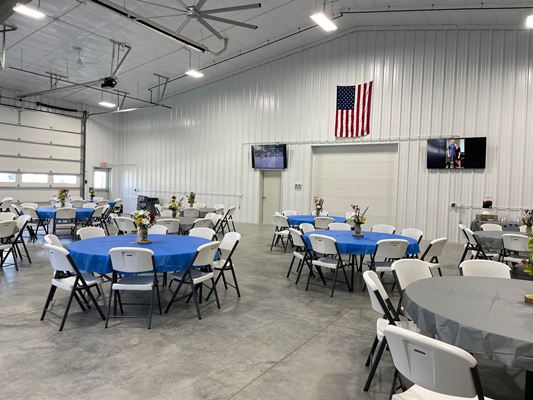 $500 Rental Fee
Looking for a spacious and flexible venue for your next event? Look no further than Ruhter Auction & Realty!
Our facility offers just under 4,000 square feet of space with concrete flooring and large garage doors that can be raised to accommodate your event needs. The area comes equipped with a large countertop and sink area, perfect for catering and serving food and drinks. Our amenities include clean and separate men's and women's restrooms.
The rental comes with 12 round tables and 96 chairs, providing ample seating for your guests. We also offer two large wall-mounted televisions for presentations or entertainment. As part of our service, we handle the setup of tables and chairs for your convenience, ensuring the space is ready for your event.
All of this comes at a competitive rental fee of just $500. A deposit of $250 is required to secure your date, ensuring the space is reserved for your exclusive use. This includes the setup of chairs and tables as well as an extended checkout for the key to accomodate your preferred set up and tear down timeline.

Whether you're planning a corporate gathering, a family celebration, a community event, or anything in between, our venue can be tailored to suit your needs.
To schedule your next event or for more information, please contact Kelly Augustin at 402-463-8565 or 402-469-7445. We look forward to helping make your event a success!