Kelly Augustin, Marketing Director; Office Administrator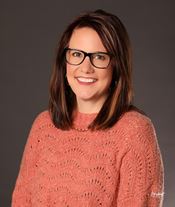 This email address is being protected from spambots. You need JavaScript enabled to view it.
Kelly joined our team in May of 2016. She is likely to be the first person you meet when walking through our doors or calling. Her infectious smile and bubbly personality will be a warm welcome when you walk through our doors. She will be sure to get you in contact with the team member that will best meet your needs. Among many other duties, Kelly's focus is on all aspects of our Digital Marketing including Website and Social Media to increase the exposure of our seller's property.
Kelly and Travis have been married since 2004 and have four children, Tobie, Alex, Praxton and Annika and reside on an acreage outside of Juniata.
Her love for faith, family and our team make her an asset to Ruhter Auction & Realty.