Kelly Augustin, Marketing Director; Office Administrator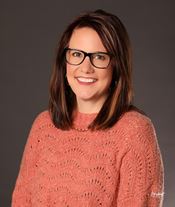 This email address is being protected from spambots. You need JavaScript enabled to view it.
Kelly, who joined our team in May 2016, brings a burst of positive energy and warmth to Ruhter Auction & Realty. As our first point of contact, her radiant smile and vivacious personality offer a warm welcome to all who walk through our doors or reach out to us. She's always ready to guide you towards the team member best suited to your needs.
Not only does Kelly excel at creating a friendly and inviting atmosphere, but she's also the mastermind behind our effective digital marketing strategies. She takes charge of all aspects of our digital presence, from our website to our social media channels, to maximize the exposure of our seller's properties. Kelly's innovative thinking and keen understanding of the digital space are crucial in propelling our listings to a wide audience.
Kelly and our co-owner, Travis, have been happily married since 2004. They are proud parents of four children: Tobie, Alex, Praxton, and Annika. The family resides on a lovely acreage outside of Juniata, where they enjoy the tranquility and space it provides.
Kelly's commitment to her faith, dedication to her family, and strong bond with our team make her an indispensable asset to Ruhter Auction & Realty. She embodies our company's spirit, bringing a sense of community and connection to our work, ensuring that every client feels valued and understood. With Kelly at the helm of our digital marketing and front-desk operations, you're guaranteed an outstanding service experience.