Eileen Saathoff, Associate Broker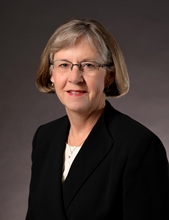 This email address is being protected from spambots. You need JavaScript enabled to view it.
Cell: 402-469-9046
Eileen has been in the Real Estate profession for over 42 years as an associate broker. She is detail oriented and specializes in residential marketing and property management. Eileen focuses on helping families make a house their home.
Eileen is a graduate of Realtors Institute of Nebraska and attended Hastings College. She is a member of Faith Lutheran Church and is currently serving on the Board of Trustees. She is also serving on the Advisory Board for Good Samaritan Village as well as a congregational advocate for Thrivent at Faith Lutheran Church, and treasurer for Young at Heart Women's Club. Eileen is also a past officer of Hastings Board of Realtors and a current member of Local, State and National Board of Realtors and is a Hastings Chapter Teammates Mentor.
She is married to Lee Saathoff and has three children; Jennie and her husband Brian, Jackie and her husband Donovan, and Craig. She has three step-children, Lori and her husband Robb, Dan and his wife Renee and Doug and his wife Gail. Together she and Lee have 13 grandchildren, 4 boys and 9 girls ranging in ages from 1 year to 23 years.