Janine Ruhter, Associate Broker & Cashier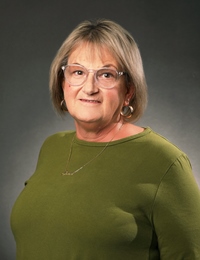 This email address is being protected from spambots. You need JavaScript enabled to view it.
Cell: 402-469-6622
Janine, a dedicated member of the Ruhter Auction & Realty team, has been contributing her skills and expertise to our company since 1979. With her Nebraska Real Estate Salesperson license obtained in 1984, she serves as our residential specialist, leveraging her in-depth knowledge of local markets to help clients find their dream homes.
Not only has Janine been an integral part of our team for decades, but she also has an impressive record of service in the broader real estate and auctioneer community. She has held the position of Director of the Nebraska Auctioneers Association Auxiliary and has served as both Director and President of the Hastings, Nebraska Board of Realtors.
For many years, Janine was the co-manager of the Prosser Machinery Consignment Auction, gaining valuable experience and understanding of the auction industry. As a testament to her multi-faceted skills, she has been the trusted cashier for Ruhter Auction & Realty, Inc. since 1979, ensuring seamless financial operations at our auctions.
Away from her professional responsibilities, Janine, alongside her husband Sam, are the proud parents of three daughters. This family connection underpins her dedicated approach to helping clients navigate the residential property market.
Janine's deep experience, commitment to clients, and community engagement make her a stand-out member of our team. With her at your side, you can be confident of receiving expert guidance and personal attention as you embark on your property journey.