160.1 Acres Webster County, Nebraska Pivot Irrigated Land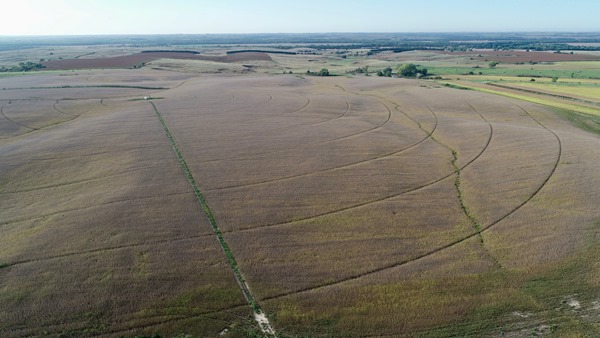 $1,300,000
This very productive farm has 130 acres of pivot irrigated cropland with all irrigation equipment included. There are an additional 12.46 acres of non-irrigated cropland. Strategically positioned near a vast livestock feeding facility and flanked by two major highways, this farm offers a seamless blend of convenience and potential.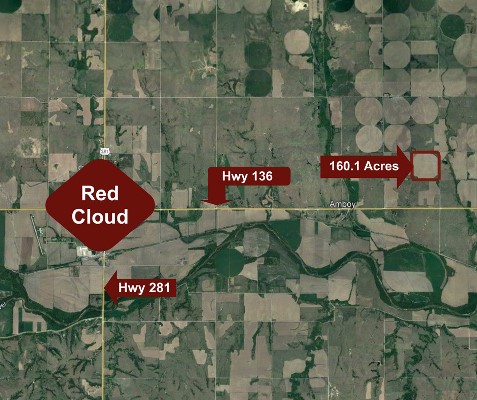 Location: From Red Cloud 5 miles east on Hwy 136 (or 5 miles west of Guide Rock) to Rd 1700, then 1 mile north to Rd H then ½ mile east.
Legal Description: NE ¼ of 35-T2N-R10W Webster County, Nebraska 160.1 acres +/-
Equipment: 1980 Reinke 9 tower center pivot, JD 6068T power unit w/ generator, Amarillo 80 hp gearhead 10:11 ratio and 1,000 gallon fuel tank.
NRD Information: 130 certified irrigated acres according to the Lower Republican NRD
Well Data: The well in the northeast part of the farm supplies water to the center pivot.
The well in the northwest part of the farm has an easement allowing the property to the west to use that water and the use of this well is not included.
FSA Information:
Farmland 156.51
Cropland 149.40
Corn Base 126.70
Taxes:
$9,139.70 (2022 real estate)
$1,040.00 (2022 Occupation)