310.96 Acres - Webster Co, Neb Land Auction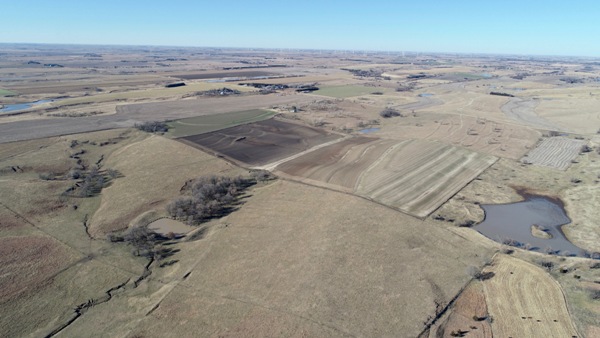 Auction Results
$1,875/Acre
Doug & Linda Knehans
310.96 Acre Webster County Nebraska
LAND AUCTION
Tuesday, January 8, 2019, 2:00 p.m.
Lawrence Legion Hall Post #45
Calvert Street
Lawrence, Nebraska 68957

Farm Location: From the intersection of Hwy 4 & Hwy 78 west of Lawrence go 6 miles south to Rd Q then 1 mile east. Or from Hwy 136 just north of Guide Rock go 8 miles north on Hwy 78 then 1 mile east on Rd Q
Legal Description: The North Half (N ½) less 13.36 acres in Section Twenty-six (26), Township Three North (T3N), Range Nine West (R9W) of the 6th P.M. Webster County, Nebraska 310.96 acres more or less.
Description: This is a very nice farm with 131.21 acres of high-quality cropland and about 170 of pasture. There are excellent soils with level to rolling terrain. This is a very nice combination farm for the row-crop and livestock producer or there is an opportunity to convert additional acres to cropland.
Possession: Full possession of the 2019 crop year will be granted. The buyer will receive the 64.93 acres of growing wheat crop. Dry fertilizer has been applied to this wheat crop at NO expense to the buyer. The buyer will have the right to rent the pastureland acres on a year-to-year basis for grazing that are included in the acreage not being sold. No additional fences will be required unless desired by the buyer at this time unless desired by the buyer.
Terms: A payment equal to 20% of the purchase price will be due the day of the auction. The balance will be due on or before February 8, 2019 by cash, certified funds or a direct wire transfer to the closing agent. The 2018 and all prior taxes will be paid by the sellers. The 2019 and all future taxes will be the responsibility of the buyer. Title insurance will be split equally between the buyer and the seller. The property and any improvements sell in "as is" condition.
Auction Method: Bidding increments are at the discretion of the auctioneer. Any absentee bids or bidding on behalf of another person or entity must be approved by Ruhter Auction & Realty, Inc and the seller.
Announcements: All inspections required by the purchaser will need to be made prior to the auction date. This sale is not contingent upon financing and while the information presented in marketing materials and on auction day were obtained from sources deemed reliable neither Ruhter Auction & Realty, Inc. or the seller makes any guarantees or warranties as to the accuracy. This property sells "AS IS WHERE IS" with no warranties either expressed or implied.