151 Acres Valley County North Loup Pivot Irrigated & Recreation Land Auction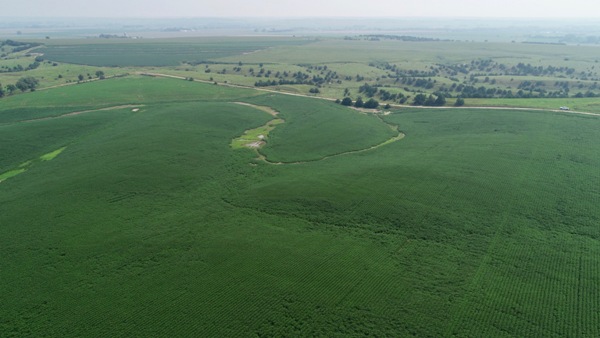 Auction Results
$3,875/Acre
151 Acres Valley County
North Loup Pivot Irrigated & Recreation
LAND AUCTION
Friday, September 21, 2018, 2:00 p.m.
North Loup Community Center
112 S. B Street | North Loup, Ne 68859
This amazing property offers North Loup River Frontage and a spring fed stream providing amazing habitat for waterfowl, upland birds and other wildlife. There are also about 120 acres of very productive farmland including 100 certified irrigated acres providing an excellent source of income. For the row crop producer or investor looking for a place to play this is the perfect property for you!
Property Location: From North Loup go 3 miles north on Hwy 11 then ¼ east on 808 Road.
Legal Description: The Southeast Quarter (SE ¼) west of the river in Section Eleven (11), Township Eighteen North (T18N), Range Thirteen West (R13W) of the 6th P.M. Valley County, Nebraska 151 acres more or less.
Description: It is very rare that a property like this becomes available. There are 2 center pivots on the property providing water to the 100 certified irrigated acres. The water source is the North Loup River Public Power. There is also a submersible well for livestock water on the property. River frontage, excellent hunting and high-quality pivot irrigated farmland all in one property!
Taxes: $8,383.38 (2017 Estimated)
Terms: A payment equal to 20% of the purchase price will be due the day of the auction. The balance will be due on or before October 22, 2018 by cash, certified funds or a direct wire transfer to the closing agent. The 2017 and all prior taxes will be paid by the sellers. The buyer will receive a credit of $8,383.38 at closing for the estimated 2018 taxes. Title insurance will be split equally between the buyer and the seller. All equipment and improvements sell in "as is" condition.
Possession: The buyer will receive immediate possession of all hunting rights upon the earnest money deposit subject to the protection of the growing crops. The seller will receive full possession of the 2018 crop. Full possession for the 2019 crop year will be granted to the buyer.
A PIP (Property Information Packet) will be available by contacting Ruhter Auction & Realty, Inc. The PIP includes possession, full terms, taxes, aerial mapping, soils and topography maps, FSA information, etc.
Disclaimer: All inspections required by the purchaser will need to be made prior to the auction date. This sale is not contingent upon financing.
Ruhter Auction & Realty, Inc. is acting as the agent for the sellers.