160 Acres Adams County, NE LAND AUCTION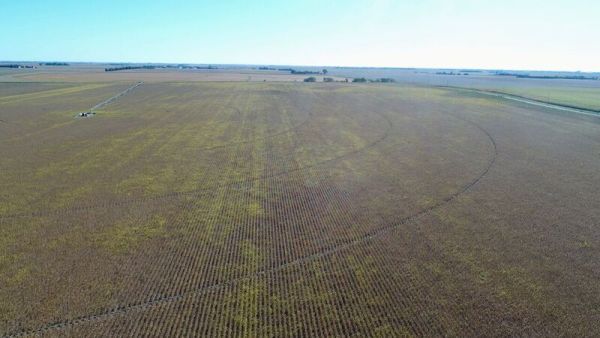 Auction Results
$7,650/Acre
160 Acres Adams County, Nebraska Pivot Irrigated LAND AUCTION
Thursday November 2, 2017 10:00 a.m.
C3 Hotel & Convention Center
2205 Osborne Drive East | Hastings, Nebraska
Farm Location: From the intersection of Hwy 6 & Showboat Blvd on the east side of Hastings go 3 miles east to Maxon Ave. then 2 miles north.
Legal Description: Southwest Quarter (SW ¼) in Section Thirty-six (36), Township Eight North (T8N), Range Nine West (R9W) of the 6th P.M. Adams County, Nebraska 160 acres more or less.
Description: This is a high quality pivot irrigated farm with very good soils and excellent underground water. The farm is located in an area with a large amount of seed corn production, a soybean processing plant, ethanol plant, livestock feeding facilities and major grain terminals creating competitive markets for the crops grown. There are currently 150.9 irrigated acres and 2.6 acres of non irrigated cropland.
Equipment: The equipment included with this property is an Amarillo 125 hp gear head model S125A, well, pump, and 2 fuel tanks. The center pivot system and power unit are the property of the 2017 tenant and are not included in this transaction.
Taxes: $10,899.72 (2016)
Terms: A payment equal to 20% of the purchase price will be due the day of the auction. The balance will be due on or before December 2, 2017 by cash, certified funds or a direct wire transfer to the closing agent. The 2017 and all prior taxes will be paid by the sellers. Title insurance will be split equally between the buyer and the seller. All equipment and improvements sell in "as is" condition.
A PIP (Property Information Packet) will be available by contacting Ruhter Auction & Realty, Inc. The PIP includes possession, full terms, taxes, aerial mapping, soils and topography maps, FSA information, etc.
Disclaimer: All inspections required by the purchaser will need to be made prior to the auction date. This sale is not contingent upon financing.
Ruhter Auction & Realty, Inc. is acting as the agent for the sellers.
Seller: Halloran Farms LTD