Hoffman-Burr Hall Co. Pivot Irrigated Land Auction
SOLD! $3,175/ACRE
Hall County Pivot Irrigated Land Auction
Wednesday, December 16, 2015 - 10:00 am

Located at the Lochland Country Club Clubhouse
601 West Lochland Road, Hastings, NE
This approximate 146 acre pivot irrigated farm will be offered at public auction.
LEGAL DESCRIPTION:
The Southwest Quarter of Section Thirty-one (31), Township Nine (9) North, Range Eleven (11) West of the 6th P.M., Hall County, Nebraska.
This is good pivot irrigated farm located in the southwest part of Hall County just 1 mile west, 1 mile north and ½ mile west of Prosser, Nebraska. The terrain is rolling and the farm enjoys an abundant underground water supply.
There is an 8 tower T-L low pressure pivot system and a Chevrolet 454 LP V8 engine powering the 8" irrigation well. The engine has 2 seasons of use.
The property is located within 3 miles of one of the largest grain marketing terminals in central Nebraska as well as being in close proximity to ethanol and feed lot facilities with excellent competition for the production from this farm.
A full detailed information packet (PIP) will be available by email or in paper form by contacting the auction company. The PIP will include things such as FSA data, aerial, soil and topography mapping, irrigation well information as well as closing information. Send requests to This email address is being protected from spambots. You need JavaScript enabled to view it.
TERMS: A payment equal to 20% of the purchase price will be due the day of the auction. The balance will be due on or before January 15, 2016 by cash, certified funds or a direct wire transfer to the closing agent.
Persons intending to bid on behalf of another party are asked to inform the auction company of such intent prior to the auction. All included equipment will sell in as is condition and without warranty of any kind either expressed or implied.
POSSESSION: Full possession will pass to the purchaser upon closing subject to any harvesting rights for the 2015 crop year.
TAXES: The 2015 and all prior taxes will be paid by the sellers. The 2016 and all subsequent taxes will be a cost to the purchaser.
Ruhter Auction & Realty Inc. and their agents are acting as agents of the sellers.
Tim Hoffmann & Dennis & Charlotte Burr, Sellers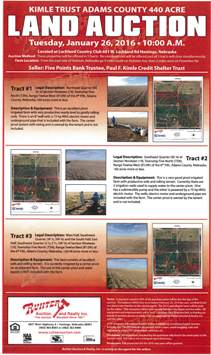 Click above for Property Information Packet
Could not load widget with the id 76.