74.98 Acres Seward County, Nebraska LAND AUCTION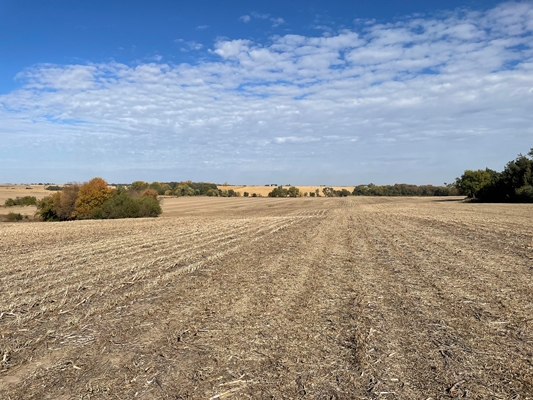 SOLD! $7,300/Acre
Monday, November 29, 2021
2PM
Seward County Fairgrounds
Click Here for Online Catalog & To Register To Bid
**Tract 1 is UNDER CONTRACT. Auction will be for Tract 2**
Farm Location: From the I-80 exit with Highway 15, ½ mile North to Holdrege Road, then 1 1/4 miles West on Holdrege Road. These 2 farms are on the North & South sides of Holdrege Rd, directly across from each other.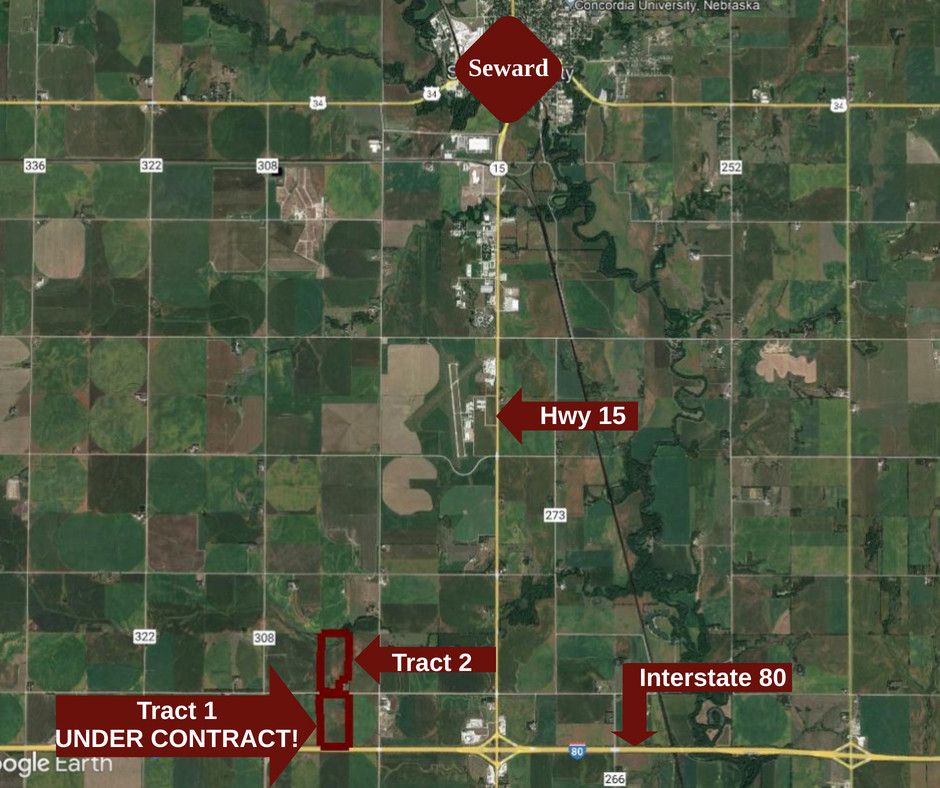 Description: Two nice combination Dryland farms with Irrigation potential. They also have Hunting Habitat, tracts of C-R-P, AND are great choices to build your country home!
*Excellent location & good roads & access, 4 miles to Seward & a quick jump on I-80 & 25 minutes to Lincoln! *
*The XL Pipeline runs through the West lines of these properties*
Listing Agent:
Mike Foley
Sales Associate
Ruhter Auction & Realty, Inc
Waco, NE 402-366-6030
TRACT #1 - UNDER CONTRACT!! Tract 2 Still Available!

Legal Description: West Half of the Northeast Quarter (W ½, NE ¼) of Section 19-T10N-R3E, Seward County, NE 69.25 acres +/- (On South side of Holdrege Road)
Details:
43.04 acres of cropland
FSA cropland acres 67.96
Base of 43.5 acres + 24.46 acres C-R-P expiring in 2022, pay's $111/acre/year.
Additionally, approximately 1 ½ acres of trees.
Development potential!
Property Taxes: $3,446.90 (2020)
TRACT #2
Legal Description: Part of the West Half of the Southeast Quarter (W ½, SE ¼) of Section 18-T10N-R3E, Seward County NE, 74.98 acres +/- (North side of Holdrege Road)
Details:
Approximately 59.33 acres cropland
FSA cropland acres 70.27
Base of 59.84 acres + 10.43 acres C-R-P expiring in 2022 and 2026, pay's $147/acre/year
Includes Tree's / Creek land.
Nice building site!
Property Taxes: $3,381.18 (2020)
Sellers: The Bangert family
Terms: A nonrefundable, earnest money deposit equal to 20% of the purchase price will be due the day of the auction. The balance will be due on or before December 29, 2021, by cash, certified funds, or a direct wire transfer to the closing agent. The 2021 and all prior taxes will be paid by the sellers. The buyer will be responsible for all subsequent taxes. Title insurance will be split equally between the buyer and the seller. The sellers will convey fee simple title subject to any existing highways, easements, reservations, or encumbrances of record on file with Seward County, Nebraska Register of Deeds. All equipment and improvements if any sell in "as is" condition.

Possession: Full possession for the 2022 crop year will be granted. Landlord's possession will be granted at closing subject to the 2021 crop year lease.

Auction Method: The 2 tracts will be offered separately and NOT in combination. Both tracts will close simultaneously at the conclusion of the auction. Bidding increments are at the discretion of the auctioneer. Any online, absentee bids or bidding on behalf of another person or entity must be approved by Ruhter Auction & Realty, Inc. and the seller.

Announcements: All inspections required by the purchaser will need to be made prior to the auction date. This sale is not contingent upon financing and while the information presented in marketing materials and on auction day were obtained from sources deemed reliable neither Ruhter Auction & Realty, Inc. or the seller makes any guarantees or warranties as to the accuracy. This property sells "AS IS WHERE IS" with no warranties either expressed or implied. Interested parties should conduct their own due diligence. Any announcements made Auction Day by Ruhter Auction & Realty, Inc. will take precedence over any previous oral statement, printed materials, or any other communication. Final bids are subject to seller confirmation/acceptance.

Acres & Mapping: The maps used in promotional materials and at the auction may not be to scale and are meant for illustrative purposes only. The acres represented on these properties are simply used as a multiplier for total sales price. A survey has not been completed; however, we have used the best sources available to us in determining the correct acreage, but they are not guaranteed.

Ruhter Auction & Realty, Inc. is acting as an agent for the seller.
Listing Agent:
Mike Foley
Sales Associate
Ruhter Auction & Realty, Inc
Waco, NE 402-366-6030