159 Acre Adams County, Nebraska Pivot Irrigated LAND AUCTION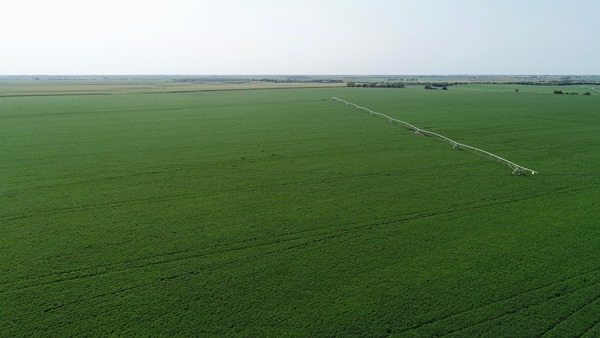 SOLD $11,150/Acre
Friday, November 5, 2021, at 10:00 a.m.
Ruhter Auction & Realty, Inc. Auction Facility
2837 W. Hwy 6 Hastings, NE
Click Here for Online Catalog & To Register To Bid
*Online bidding offered with prior approval*
Location: From Roseland, Nebraska 2 miles west on Hwy 74 to Bladen Ave, 7 miles south (or 2.5 miles north of Bladen) to Silverlake Rd then ½ mile east.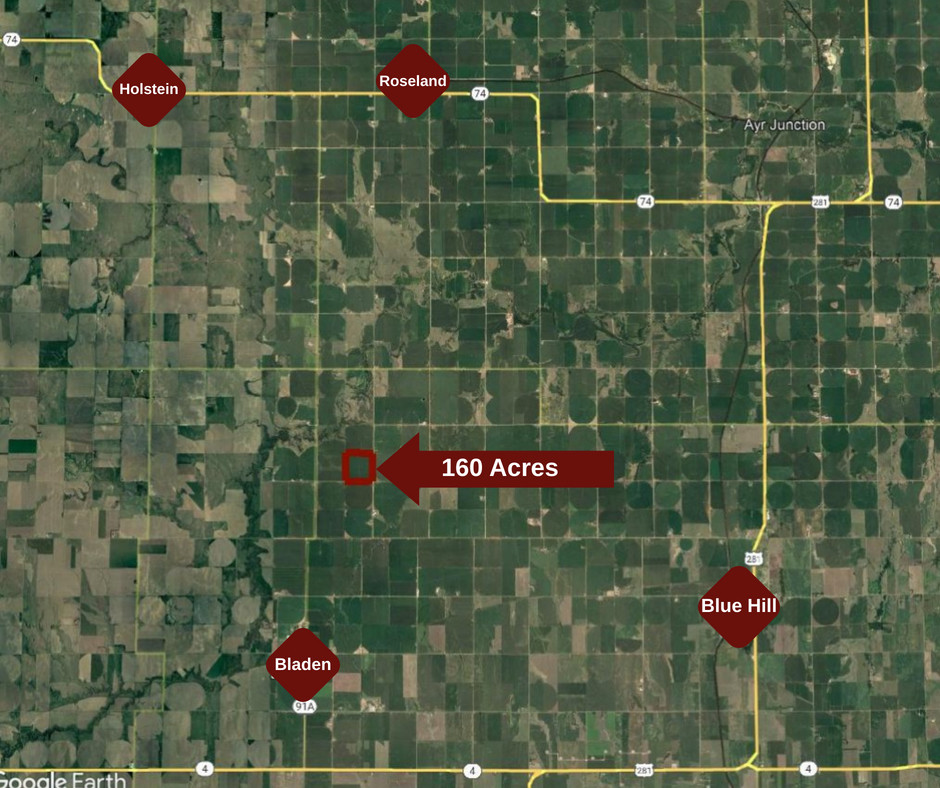 Legal Description: Southeast Quarter (SE ¼) of Section Twenty-nine (29), Township Five North (T5N), Range Eleven West (R11W) of the 6th P.M. Adams County, Nebraska 159 acres+/-
Description: This is an excellent pivot irrigated farm with nearly level to gently rolling Hastings and Holder silt loam soils and very good supplies of underground water. 156.33 acres of cropland including 129.3 certified irrigated acres. This area is known for excellent supplies of underground water and competitive markets for the crops grown making this a great opportunity for the farmer or investor to acquire highly productive pivot irrigated farmland.
Equipment:
1996 T-L 8 tower center pivot, 1,295' system, nozzled at 800 gpm, end gun radius 97.4' at time of installation.
Chevy 454 natural gas power unit
Amarillo gearhead 1:1 ratio
(Well cover and livestock panels belong to the tenant and are not included)
*The value of the irrigation equipment on the purchase agreement NOT in addition to the price bid at auction will be $35,000.
Taxes: $7,162.56 (2020)
Sellers: Karolyn Sue Elliott & Kile LLC
Terms: A payment equal to 20% of the purchase price will be due the day of the auction. The balance will be due on or before December 6, 2021, by cash, certified funds, or a direct wire transfer to the closing agent. The 2021 and all prior taxes will be paid by the sellers. The buyer will be responsible for all subsequent taxes. Title insurance will be split equally between the buyer and the seller. The sellers will convey fee simple title subject to any existing highways, easements, reservations, or encumbrances of record on file with Adams County Register of Deeds. All equipment and improvements sell in "as is" condition.
Equipment Value: The value of the equipment on the purchase agreement NOT in addition to price bid at auction will be $35,000.
Possession: Full possession for the 2022 crop year will be granted. Landlord's possession will be granted at closing subject to the lease expiring February 28, 2022.
Auction Method: Bidding increments are at the discretion of the auctioneer. Any absentee bids or bidding on behalf of another person or entity must be approved by Ruhter Auction & Realty, Inc and the seller.
Announcements: All inspections required by the purchaser will need to be made prior to the auction date. This sale is not contingent upon financing and while the information presented in marketing materials and on auction day were obtained from sources deemed reliable neither Ruhter Auction & Realty, Inc. or the seller makes any guarantees or warranties as to the accuracy. This property sells "AS IS WHERE IS" with no warranties either expressed or implied. Interested parties should conduct their own due diligence. Any announcements made Auction Day by Ruhter Auction & Realty, Inc. will take precedence over any previous oral statement, printed materials, or any other communication. Final bids are subject to seller confirmation/ acceptance.
Acres & Mapping: The maps used in promotional materials and at the auction may not be to scale and are meant for illustrative purposes only. The acres represented on these properties are simply used as a multiplier for total sales price. A survey has not been completed; however, we have used the best sources available to us in determining the correct acreage, but they are not guaranteed.
Ruhter Auction & Realty, Inc. is acting as an agent for the seller.